(511) 225-1627 (511) 224-2135
Specialties
Surgical correction of High Myopia
We Accept: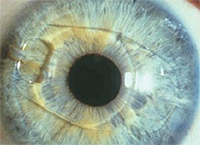 Artisan Intraocular Lens for high myopia.

Surgical correction of High Myopia
Placing intraocular implants is a safe technique that improves vision within 24 hours.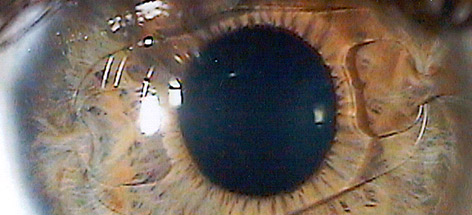 High myopia is considered in cases in which the eye prescription is above -6.00 diopters. There are many options to correct poor vision in these patients, some of which are: eyeglasses, contact lenses, laser treatment (LASIK) and intraocular lens implants (photo above).
In these cases, eyeglasses are very thick and heavy. Also, and besides being unsightly, they produce a narrowing of images. Contact lenses, on the other hand, are a suitable alternative, but in many cases there are difficulties in adapting to them due to the presence of dry eye, allergies and hypersensitivity. The modern treatment with Excimer Laser (LASIK) is another option, but it is not often recommend as the cornea may end too thin.
Therefore, phakic intraocular lens implantation for high myopia emerges as an interesting alternative:
The placement of these devices in the eye is a safe, effective technique, backed with significant clinical experience.
It provides a permanent and predictable solution.
Corrects myopia ranging from -4.00 to -24.00 diopters.
The surgical procedure is short and requires only local anesthesia.
The results are almost immediate, with improved vision in less than 24 hours.