(511) 225-1627 (511) 224-2135
We Accept:







Symptoms
Mild dry eye manifests by redness and a gritty feeling. These symptoms become more evident when there is wind, fans or air conditioners, as there is an increase in the evaporation of tears.

Moderate dry eye manifests by a noticeable shortage of tears, small corneal injuries, discomfort with light, foreign body sensation when you blink, and decreased vision.

Severe dry eye manifests by intense dryness of the ocular surface, corneal opacities, discomfort with the light, decreased vision and major disability in the patient.
Intracanalicular implants in mild to moderate dry eye
Ocular dryness or dry eye is most often associated with aging.
The dry eye or lacrimal hyposecretion is a shortage or lack of tear production. It is a very common eye disease in our time. Dry eye is classified according to its seriousness as mild, moderate and severe.
Dry eye is most often associated with aging. As a person grows, the eye produces fewer tears. Postmenopausal women suffer from dry eye more frequently than men of the same age. It is also seen during pregnancy or when taking contraceptives. When the dry eye of postmenopausal women is accompanied by dryness of the nasal, oral and vaginal mucosae, this is known as Sjogren's syndrome type I. When dry eye is associated with systemic diseases such as rheumatoid arthritis or lupus erythematosus, is known as
Sjogren's
syndrome type II.
There are also many drugs which reduce the production of tears and saliva as a side effect. These include anxiolytics (Valium®), antidepressants, antipsychotics, antihistamines, anticholinergics (Buscopan®), antihypertensives, diuretics, etc.
Treatment
Mild and moderate cases are treated with artificial tears and the use of intracanalicular implants or "punctal plugs".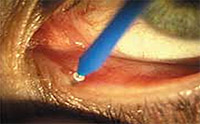 Intracanalicular implants avoid losing the few tears that are produced or the artificial tear drops that are instilled. This treatment can be done at an early stage of the disease, as a coadjuvant to the environmental and medical treatment. Their implantation is simple and does not require any incision or injection of anesthesia. Placement does not take more than 2 to 3 minutes.